Location:Home > News > Leadership > Hu Chunhua Visited Jieyang to investigate and affirm the Project of ZhongDe Metal Eco City
Hu Chunhua Visited Jieyang to investigate and affirm the Project of ZhongDe Metal Eco City
Source:ZhongDe Metal Group Co., Ltd. Author:ZhongDe Metal Group Co., Ltd. Date:2016-07-15
On July 6th, the Secretary of CPC Guangdong Committee Hu Chunhua came to Shantou, Chaozhou and Jieyang to investigate and inspect the progress of glorious development of northwestern East Guangdong. During the investigation in Jieyang, Hu Chunhua had a field visiting on ZhongDe Metal Eco City and gave full affirmation to the project, which mostly inspired the participants of the project. Everyone expressed that we should implement the instruction spirit, which the Secretary Hu Chunhua gave to ZhongDe Metal Eco City, to the construction work in the MEC. We will make great efforts on the realization of the project, better and faster to promote the construction of ZhongDe Metal Eco City and help Guangdong to form an important cooperation platform to Germany in Jieyang.

Hu Chunhua visited Jieyang and chose the ZhongDe Metal Eco City as the first stop to investigate. The Vice President of ZhongDe Metal Group Co., Ltd. Liu Feizhou was very excited about it, "the Secretary Hu Chunhua expressed his concern and affirmation to the construction of ZhongDe MEC, especially appreciated the practice that creatively combines the industrial association cooperation and market-oriented operation to promote the construction of the MEC in the city." He said that the following will according to the instruction spirit of Secretary Hu Chunhua to grasp the implementation of a series of cooperation achievements of the first Chins-Germany SME Conference." Liu Feizhou said expectantly, "We are organizing some domestic enterprises to visit Germany in batches. Most projects settled in ZhongDe MEC after the cooperation between Chinese and foreign enterprises, which will introduce plentiful enterprise resource to Jieyang, and take this opportunity to make Jieyang as an important plant for Guangdong to cooperate with Germany."

The Executive Director of Jieyang Metal Enterprises Union Lin Zhongwei expressed, "Under the attention of leaders at all levels, at present the Sino-Germany cooperative innovation base of ZhongDe Metal Eco City goes well. We also received the affirmation and instruction from the Secretary Hu Chunhua this time, and it gives us more confidence to the development of MEC." He said, it will continue to promote the production work of every ZhongDe innovation base project, intensify efforts to attract investment and capital, positively use the advanced management experience of excellent park, fully play the demonstrative effect of ZhongDe cooperative innovation base and promote the transfer and upgrade of Jieyang metal enterprises.

The Director of ZhongDe Metal Group and the President of Jieyang Surface Treatment Eco City Zhou Kailian said, "The Secretary Hu Chunhua was very satisfied with the standard of Zero-Wastewater-Discharge of the center after his investigation in ZhongDe Metal Eco City Surface Treatment Center, and he thought it is a profound livelihood project. We will continue to propel the construction of Surface Treatment Center with high standard, positively introduce German advanced technology, help Jieyang metal enterprises to improve production line, realize the transformation of production and promote Jieyang metal industry to achieve a win-win situation of both economic and ecological benefits."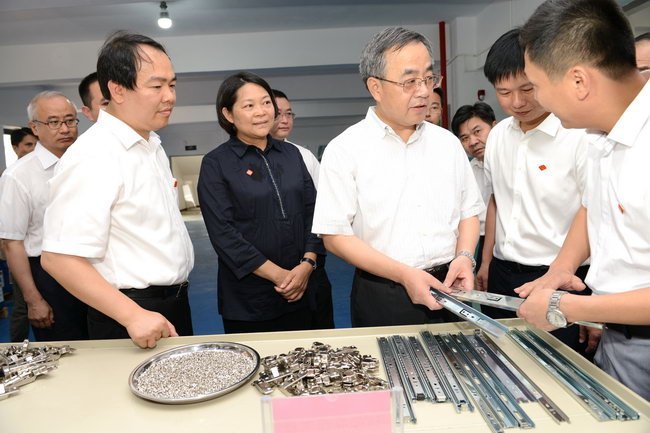 (Hu Chunhua visited and investigated the electroplating factory of Surface Treatment Center and gave high praise to the "Zero-Wastewater-Discharge" project.)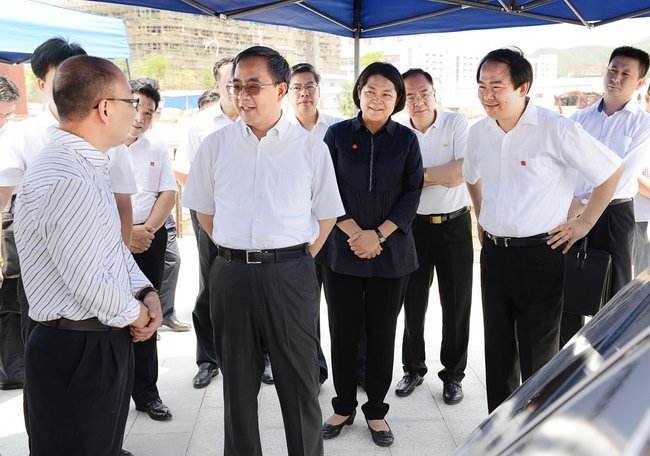 (Hu Chunhua had a cordial talk with the entrepreneur representatives and put forward instruction opinions on accelerating the promotion of ZhongDe Metal Eco City cooperative projects.)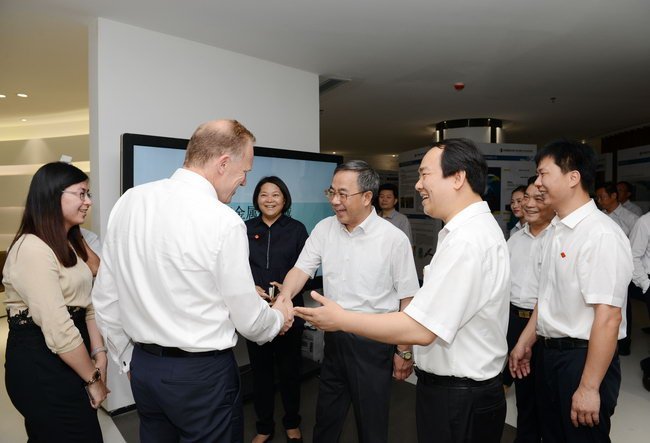 (Hu Chunhua met with the CEO of former German national brand promotion and the General Manager of ZhongDe Metal Group Co., Ltd. Mike de Vries.)

Add:Floor 21, Honghe Building, Jieyang City, Guangdong Province Code:522000 Tel:4008941333 Fax:4008875666-159888