Location:Home > News > Media Reports > The European connection
The European connection
Source:China Daily Europe Author:Chen Yingqun Date:2017-06-23
The European connection

Industries show off their products and expertise in bid to aid China's transformation

Take a cup of tap water, use a penlike product to stir in it for a few seconds - and the water becomes drinkable.

The water purifying pen was recently demonstrated in Jieyang, in South China's Guangdong province, by a Czech company.

Frantisek Chaloupecky, vice-chairman of the Confederation of Industry of the Czech Republic, says that a production base for the water purifying pen is under construction in Jieyang and manufacturing will start in a few months.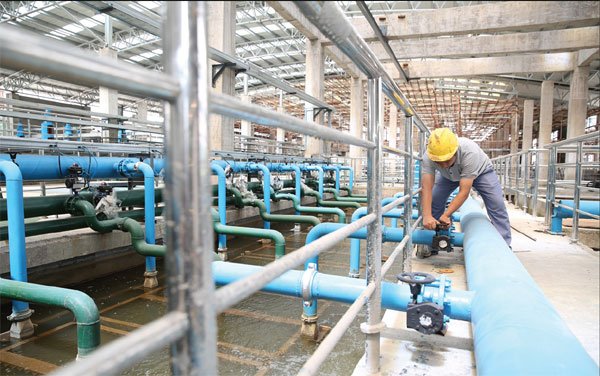 A worker at a sewage disposal plant at the Sino-German Metal Eco City. Provided to China Daily

"We will develop water purifying pens that are suitable for Chinese markets, and pens made in Jieyang will also be sold to Southeast Asia, Africa and Europe," he says.

About 165 companies and organizations from European countries - including Germany, Spain, Austria, France and the Czech Republic - and 260 companies from China participated in the recent third China-Germany (Europe) Small and Medium-Sized Enterprises Conference in Jieyang.

Chaloupecky says he has led a delegation of 15 Czech companies to Guangdong.

"The Czech Republic has good industrial foundation. I think there are great opportunities in sectors including aviation and machinery manufacturing," he says.

Jieyang is well-known in China for producing industrial hardware, with metal its main industry, but this has caused heavy pollution. For the past four years, the city has been seeking collaboration with European companies, especially from Germany, to tackle pollution and advance its industrial transformation.

Jieyang also built the Sino-German Metal Eco City, a pilot area for sustainable living that makes the most of China and Germany working together. It draws heavily on high technology and seamlessly integrates industry, human habitation and services, while respecting the environment.
Wu Kedong, chairman of the Zhongde Metal Group Ltd, says that for the past four years, the Sino-German Metal Eco City has been pushing forward about 200 cooperation projects through its 10 offices in Europe. Up until now, 42 joint projects between Chinese and European companies have signed to be located in it. By 2020, it is expected to attract about 300 European companies.
Moreover, the city has built connections with more than 28 research institutes in Europe, and set up a technology innovation center in Jieyang to help connect European high-tech research institutes with Chinese small and medium-sized enterprises and the Chinese market.

Yuan Baocheng, vice-governor of Guangdong province, says that in the past few years, due to the Belt and Road Initiative and Made in China 2025, Guangdong, an important manufacturing hub, has seen increasing exchanges with Europe in investment, trade and people.

The Made in China 2025 action plan aims to improve the country's manufacturing ability, while the Belt and Road Initiative could push forward connectivity and cooperation between China and Europe.

"Smart manufacturing will be key to future industrial development and is also important for SMEs," he says. "So we hope Guangdong can strengthen cooperation with European companies."
European entrepreneurs also later went to Shenzhen to showcase their products and projects to companies there. Jia Changsheng, vice-director of Invest Shenzhen, says that Shenzhen is very innovative and has huge research and development abilities. In 2016, its input into R&D accounted for about 4.1 percent of its gross domestic product. He says Shenzhen would welcome European companies' investment.

Otto Schily, former German federal minister of interior, says that about 99 percent of German companies are SMEs, which provide 60 percent of jobs in the country and contribute to more than half of its economy.

"SMEs are usually very entrepreneuria land innovative," he says. "I can see that China has fully realized the importance of SMEs. China and Germany could cooperate a lot in boosting the development of SMEs and I'm glad to see more German SMEs exchanging with Chinese SMEs in Guangdong."

Carlos Julian Tortola Sebastian, chief economic and commercial counselor at the Embassy of Spain Economic and Commercial Office (China), says that three years ago, there were only 20 Spanish companies participating in the conference in Jieyang, but this year, the number has reached 50.
He says that in Spain, metallurgical industries account for about a third of the whole industrial sector and the government has long realized the public's concern about their effect on the environment. Because of this, strict rules and regulations have been applied to the industries.

He says that more Spanish companies could share their technologies and experience with Chinese companies, including sustainable manufacturing and disposal of waste.

Add:Floor 21, Honghe Building, Jieyang City, Guangdong Province Code:522000 Tel:4008941333 Fax:4008875666-159888