Location:Home > News > Media Reports > Manufacturing future prosperity
Manufacturing future prosperity
Source:ZhongDe Metal Group Co., Ltd. Author:ZhongDe Metal Group Co., Ltd. Date:2015-11-06
German chancellor and Chinese premier promote greater connectivity between their nations' upgrade strategies
Angela Merkel has sought closer links with China on all her visits to the country, but for Chinese business, her biggest breakthrough may have come at the end of last month.
The German chancellor, making her eighth visit, resolved with Premier Li Keqiang to further connect the countries' national manufacturing strategies, Industry 4.0 and Made in China 2025.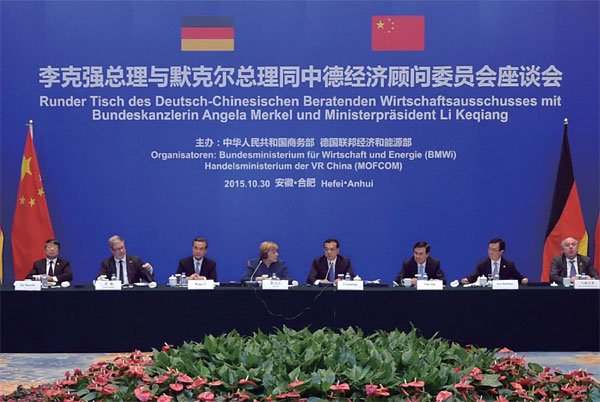 Premier Li Keqiang and German Chancellor Angela Merkel witnessed the signing of commercial agreements during a visit to Hefei, capital of Anhui province, on Oct 30. Li Tao / Xinhua
Industry insiders on both sides have welcomed the move.
"I'm very excited that China and Germany will push forward collaboration in manufacturing at a national level," says Liu Feizhou, vice-president of Zhongde Metal Group, in Jieyang, Guangdong province.
"It's a dialogue between two countries, rather than just between companies or associations, which gives us great confidence."
Merkel and Li witnessed the signing of 15 agreements by entrepreneurs, including Liu, during a visit to Hefei, capital of Anhui province, on Oct 30.
One of the deals was for a program to promote German advanced technology that will be established by Zhongde Metal and Fraunhofer IPK, a German research center and one of the main drivers of Industry 4.0.
Liu says the program will eventually be developed into a platform to bring Germany's advanced technologies to China.
Merkel, who arrived in Beijing on Oct 29 with a delegation of more than 20 entrepreneurs in the machinery, automotive, electronics and telecommunications industries, initially witnessed the signing of 13 agreements, including a deal under which China Aviation Supplies Holding Company will buy 30 Airbus A330s and 100 A320s for $17 billion.
In a meeting the same day, the leaders agreed that Industry 4.0 should be docked with Made in China 2025 and that they will help each other reach the next level of industrialization.
Industry 4.0, a key talking point during Merkel's visit, was initiated in 2013 and is aimed at establishing a network to facilitate technological development, such as cyber-physical systems, the Internet of Things and the Internet of Services. Its objective is to build high-end, smart factories across Germany.
Manufacturing is critical to the economies of both countries. The sector accounts for 40 percent of China's GDP. For Germany, it is 25 percent.
China has been seen as the world's factory for the past three decades, but observers say its companies lack innovation and are too reliant on imports for key technologies and high-end equipment. Made in China 2025, unveiled by the State Council in May, aims to upgrade manufacturing and make the country a global leader in innovation.
Smart manufacturing is expected to be of primary importance in China's 13th Five-Year-Plan (2016-2020), says Lu Yongxiang, the former president of the Chinese Academy of Sciences, who has been advising a national leading group given the task of mapping out the manufacturing sector upgrade.
Smart manufacturing will allow China to change the sector's development model, raise its technology capacity and increase its international competitiveness, he says.
The new five-year plan was discussed at the Fifth Plenary Session of the 18th Communist Party of China Central Committee between Oct 26 and 29. A communique issued on the last day said it had been decided the country should construct new industrial systems, accelerate its transformation into a manufacturing powerhouse and implement Made in China 2025.
Michael Clauss, the German ambassador to China, says that by working together through their national strategies, China and Germany can make their products more competitive worldwide.
"It's in both countries' interests to innovate and to modernize, to be more productive and to remain competitive, because both of us rely strongly on exports of manufactured goods, more than any other country. Industry 4.0 and Made in China 2025 are both aimed at bringing together the digital world and manufacturing."
Cui Hongjian, director of the China Institute of International Studies' European department, agrees that there is great potential for both countries to benefit for collaboration on a national level.
Germany, high in the value chain, would gain from access to China's emerging markets and complete industrial systems, he says, while China, in the middle of the value chain, needs Germany's support to upgrade its industries.
Both sides should not only manufacture together, but also set international standards together, he says.
Leading industries in both countries are already working together under the Industry 4.0 and Made in China 2025 strategies. Clauss says such collaboration will transform the way both countries work.
Last month more than 20 members of the China Entrepreneur Club visited the German headquarters of BMW and SAP to learn more about Industry 4.0.
"Chinese companies are experiencing digitalization so we hope to understand more about successful practices in Germany and see what kind of collaboration opportunities there are," Wang Wenjing, chairman and CEO of software company Yonyou Network Co, said during the visit.
Siemens, another driver of the Industry 4.0 concept, also signed a comprehensive cooperation framework agreement with Shenyang, the capital of northeastern Liaoning province, on Oct 29. The German group will provide technology and experience to help the city with transport planning.
Guangdong and Jiangsu provinces, two of China's biggest manufacturing centers, have seen increased Sino-German cooperation among small and medium-sized companies over for the past two years.
For example, in Jieyang, which is known for producing industrial hardware, metal is a pillar industry involving more than 7,000 companies that has caused large-scale pollution. For the past three years, authorities and businesses have been studying German practices to tackle pollution and advance industrial transformation.
In June, the city hosted the inaugural Sino-German SME Forum, attracting more than 100 German companies, while Jieyang has also put into operation its Sino-German Metal Eco City, home to more than 20 joint ventures in the automation and robotic industries.
"In the past, collaboration in the manufacturing sector has mostly happened between leading Chinese and German companies," Liu at Zhongde Metal says. "A very large number of SMEs are still using production line technology that is about 10 years out of date. They don't have the channels or platforms to look for German partners and make a transformation."
SMEs are an important and dynamic part of the German and Chinese economies, as well as hold many of the European nation's manufacturing technologies, he says, adding that if the Made in China 2025 and Industry 4.0 strategies can be connected, the fate of SMEs in both countries will be changed.
Contact the writers through chenyingqun@chinadaily.com.cn.
(China Daily European Weekly 11/06/2015 page22)

Add:Floor 21, Honghe Building, Jieyang City, Guangdong Province Code:522000 Tel:4008941333 Fax:4008875666-159888