Location:Home > News > Company News > Co-construction of Industry 4.0 Demostration Zone
Co-construction of Industry 4.0 Demostration Zone
Source:ZhongDe Metal Group Co., Ltd. Author:ZhongDe Metal Group Co., Ltd. Date:2015-02-14
On 11th February 2015, Mayor Chen Dong, also the Vice Secretary of CPC Municipal Committee, met with the delegation led by Professor Dr. Holger Kohl, director of German of Fraunhofer IPK for investigation in Jieyang. The two sides reached a consensus on the construction of Industry 4.0 demonstration zone on the basis of Sino-German Metal Eco City.

Chen Dong pointed out that German strategy of Industry 4.0 would lead a new generation of technology R&D and innovation and promote the transformation of intelligent manufacturing, acting as a sample for Chinese enterprises. He hoped that Fraunhofer could give full play to the science research and support Jieyang's Industry 4.0 development with technology and intelligence; with Sino-German Metal Eco City, China and Germany could set up cooperation of international cooperative incubators, supporting platform for Sino-German SME transformation and upgrading technology, introducing platform for German technology, personnel and equipment, demonstrating platform for German Industry 4.0 docking, and form a "1+3" working system. Most of all, it is to build up 10 demonstration factories (demonstration workshops) of Industry 4.0 and make Sino-German Metal Eco City as Chinese demonstration zone of Industry 4.0.

Cole Hogler believed the construction of Sino-German Metal Eco City is a good opportunity for China to achieve Industry 4.0. He said they would actively participate in the eco-city projects,specially in the construction of "1 + 3" park and platform.They would try effort to implement the consensus on the technology innovation and transfer of German scientific and technological achievements, pay close attention to the transformation and upgrading solution that is actually needed for the Jieyang enterprises, promote the application of Jieyang's Industry 4.0 and further enhance intelligence level and international competitiveness of Jieyang's industry.

People attended the activity were Vice president of the CPPCC Jieyang municipal committee, also Secretary of Municipal government Cai Bangfan, member of Party Group Zhang Huiling and relevant people from ZhongDe Metal Group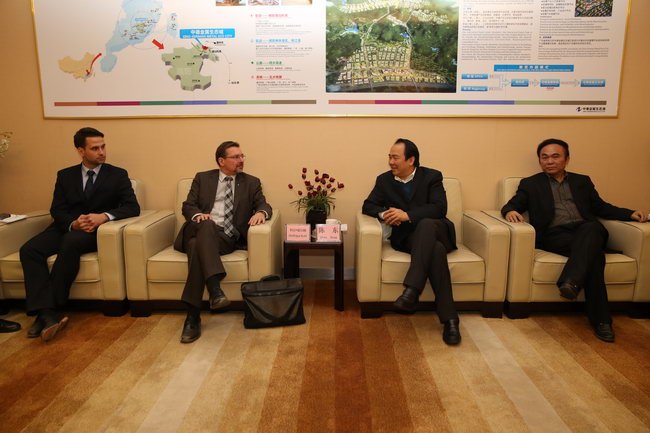 Mr. Chen met with the delegation led by Holger Kohl, reaching consensus on co-constructing the Industry 4.0 demonstration zone

Add:Floor 21, Honghe Building, Jieyang City, Guangdong Province Code:522000 Tel:4008941333 Fax:4008875666-159888